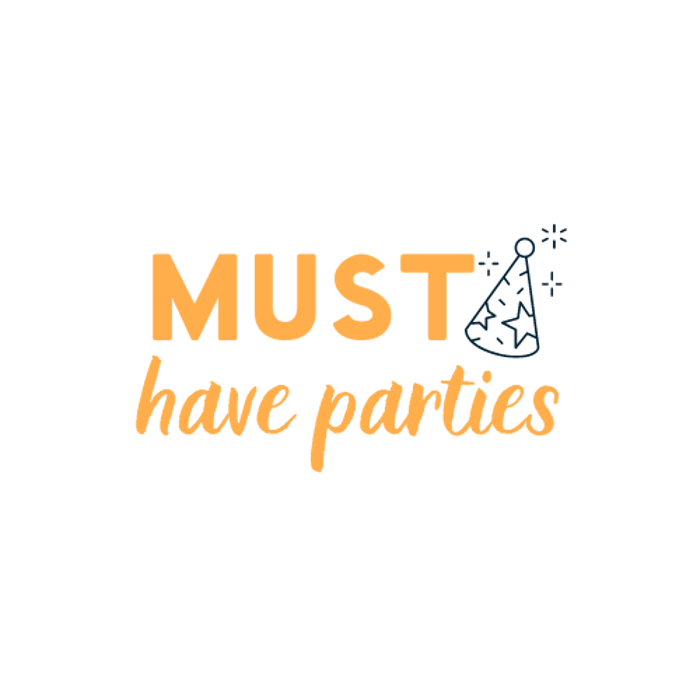 Sweet treats: Ice Cream themed baby shower
Sweets for a sweet baby on the way! How to throw an epic Ice cream themed baby shower.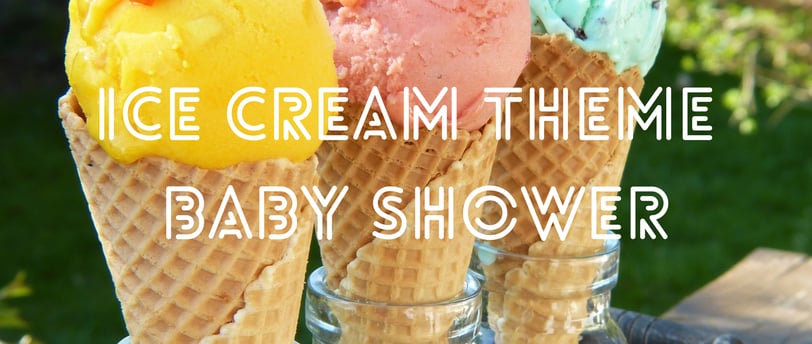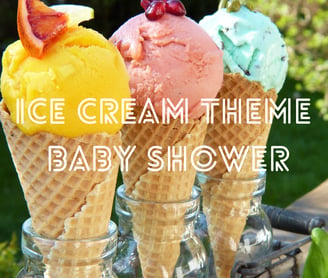 Celebrating a new life coming into the world is always a joyous occasion, and when it's your sister who's expecting, the excitement is unparalleled. My sister and husband love ice cream and what better way to welcome a sweet baby into their lives with the sweet treat.
As it was their first baby, we had to celebrate big! We thankfully have a big family and my brother in law has a pretty big family too. Our families actually. have been friends since before we were born. So we always have a great time and it's always a pleasure to work together to create a fun party. We drew on everyone's talents. One of my brother in laws sisters is a great artist so we asked if she could design something to go along with the ice cream theme. Her artwork made a really special focal point and set the tone for the party. My brother in laws other sister is a great cook and she made an amazing taco bar. We helped with some of the sides and my sisters friends helped get the ice cream bar supplies. It was an amazing how everyone did their part and came together so nicely.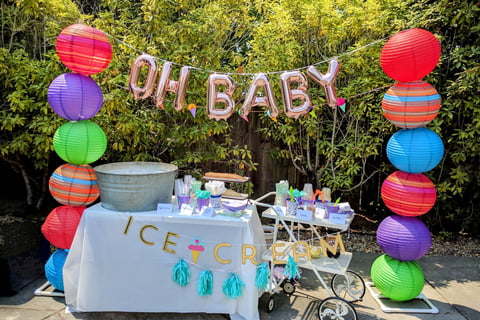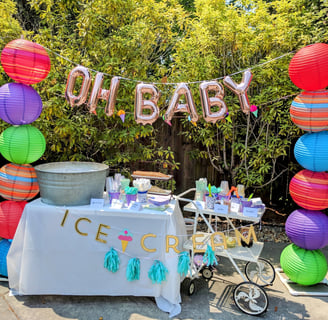 Decorations That Melt Hearts
Transforming our backyard into an ice cream wonderland required some DIY creativity. Here are some decor highlights that added a delightful touch:
1. Ice Cream bar: We used a vintage cart from my grandma's house, a cute banner and DIY'd the lantern towers.
Supplies:
2. Print once, cry once: My sisters and I have used the banner letters for multiple parties as you'll see in other posts. We bought cardstock and bit the bullet and printed a bunch of letters. It's paid off as they've lasted so long. We will mix the banner with different themes to refresh it.
3.Welcome table that wow'd - from personalized diaper cakes, to cute gifted onsies and baby pictures the welcome table really helped get guests into the baby shower mood.
The Ice Cream Bar was undoubtedly, the highlight of the party. We offered a variety of flavors, from classic vanilla, rocky road, green tea and coffee. Guests had a blast customizing their sundaes with an array of toppings and syrups. We asked my sister's friends who wanted to be involved to be in charge of bringing the ice cream bar supplies. They did awesome! If you don't have a big support team, I suggest just ordering online to be delivered to your home. Honestly, it makes life so much easier.
Topping:
Caramel sauce
Crushed Oreos
Magic Shell
Heath Bars
Maraschino Cherries
Mini M and M's
Whip Cream
Sprinkles
Gummies
These are the toppings we used, but of course get whatever toppings you and your guests like! To keep the ice cream cold we purchased dry ice at our local grocery store. It was fairly easy, I suggest you call ahead to make sure they'll have dry ice that day. I usually send my husband, Dad or whoever else that isn't needed to help with decor set up, this helps them get involved and works with their wheelhouse. There's also always the item we forgot and they can pick up while they're out.
Setting up the ice cream bar I wanted to leave out a cup of hot water to store the ice cream scoop in. The scoop linked, is the best! It has liquid in the scoop that when warmed with your hand or hot water will help scoop warm the ice cream smoother scooping. Whatever helps to get me to eating ice cream faster, I'm all for! If you have a normal ice cream scoop no problem! Still put the scoop in hot water and it'll have the same effect for a smoother scooping experience as the warm scoop helps melt the ice cream. We bought some cute metal tins to put all the toppings in (here is a different option), straws and spoons to bring it all together. I've linked some options that went with our theme and I'll include some other links that would be easily to match any theme.
Sweet Games and Activities
To keep the energy high and the laughter flowing, we organized some games:
1. Most creative name: We had guests write down their most creative name for the new arrival and we had some really good laughs. The couple picked their favorite one for an awesome prize.
2. Ice Cream Trivia: We tested everyone's knowledge of ice cream with a fun trivia game. The winner received a delightful ice cream-themed prize.
Special Moments and Gifts
Of course, we made time for heartfelt moments and gifts. We asked guests to write sweet messages for my sister and her soon-to-arrive baby in a keepsake book.
The ice cream-themed baby shower for my sister was a resounding success. It was a celebration of love, family, and the sweet journey that awaits her as a new mom. With an ice cream bar that satisfied every craving and DIY decor that added a personal touch, it was a day filled with laughter, joy, and a whole lot of sweetness—just like the love we have for our sister and the little one on the way.
Hope this helps and you have a sweet party!