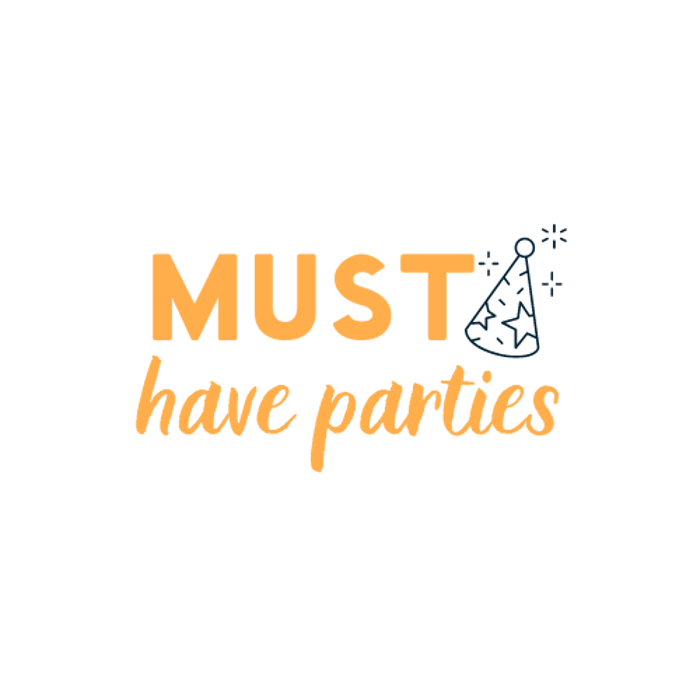 Rising sun backdrop
A fun backdrop that is eco-friendlyish.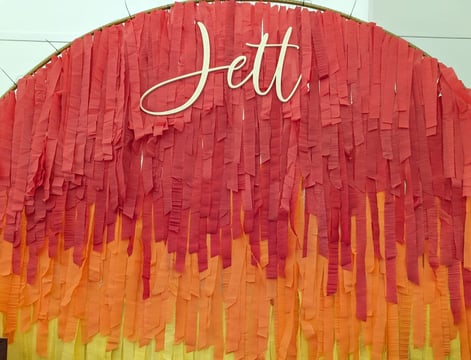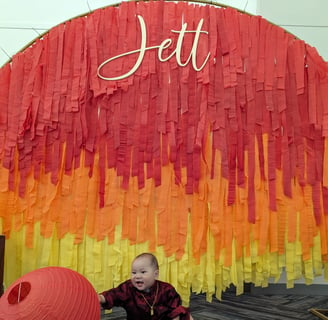 One of the highlights of our Red Egg and Ginger Party was the backdrop we created ourselves, keeping our commitment to being as eco-friendly as possible. The goal was to make a backdrop for people to create memories in front of and a focal point of the party. I recruited my sister to help which ended up being nice because we turned on a show and chatted, then before we knew it we were done! The hardest part might have been deciding which show to watch and the second hardest part was figuring out how to hang the net so it could be easily transported. We used paper streamers and garden netting, which was lightweight and easy to roll up once all the streamers were in. Here's what we did.
Supplies needed:
Scissors
Netting 20 ft or more depending on your arch size
Personalized sign (optional)
Step 1: Find a space big enough for you to work on the arch, could be inside or outside but we worked on it a few hours over a period of time so indoors worked best. I housed it in my garage where it would be out of the way and no one would bother the backdrop.
Step 2: This might have been the toughest part, which looking back it wasn't that bad. We tired to find the middle point and attached the netting with zip ties all around keeping the net tight so there wouldn't be any drooping.
Step 3: We then measured how long we wanted the streamers to hang and cut about 5-6 rolls of each color. This was the most time consuming but again we just chatted and spent some good quality time together.
Step 4: Finally, we were ready to start inserting the streamer pieces. We started at the bottom folding in half the streamer to insert into the net hole. We skipped a few 3-4 and when we went up a row we would skip about 5 rows. We started with smaller margins but found that it really didn't matter and made for more work, as long as you aren't seeing any empty spaces. All in all it took probably around 4-5 hrs if we didn't chat and take so much time figuring out how we were going to create this thing, it might have been faster.
The beautiful name sign was ordered from Etsy. The sign took did take some time to arrive so give yourself at least a few weeks lead time. If possible I say 1-1.5 months in advance. The nice this is the personalized sign now hangs in our sons room as decor and nothing was wasted!
A couple things that I'd do differently -
I would put more streamers over the side edges, so when we put everything back together the day of the party there would be more wiggle room for error. Instead we were trying to fill in holes that popped up trying to put the whole thing back together.

The netting I used was not very stiff and the holes are a bit small. I didn't mind it as I was able to roll the netting and transport it pretty easily. But I could see how it would be easier to use something more like this.

The little ends of the zip ties tails really bother me, so I would clip them off once finished. In our rush to get things done we totally missed the zip tie tails.

In the end, I wouldn't procrastinate as much. When I decided to do this arch backdrop, it felt like a big task. But it ended up being pretty easy and more enjoyable then I thought.
Happy backdropping!
This post contains affiliate links and I may receive a small commission at no extra cost to you. I only recommend products I believe will be helpful. Thanks!